Let's meet the newest members of the Nutrolin® equestrian team, Sandra Juutilainen, Mindi Korvenoja and the young mare, Louella S.
« We are super excited and interested in collaboration with the Finnish brand and are willing to share our experiences gained from using the unique products of Nutrolin® », they say. We are, too.
Working towards Lanaken 2021
« We are a small team from Finland consisting of the horse, the rider and the owner. Our goal is to train the young Finnish Warmblood horse Louella S to Lanaken 2021, where she will hopefully jump the World Championships for 5-year-old horses », they write in their introduction.
Mindi Korvenoja has been training the horse since the end of 2019. Mindi is very experienced and passionate about her training, as well as showing young horses. She has worked at the most prominent training and selling stables in the Netherlands. Mindi has trained several horses to the international level in showjumping and has had horses from big equestrian names.
Let's get to know Louella S's owner, too. « I am Sandra, the owner and breeder of Louella S. She has been bred from my own competition mare, Silverbella, with whom I did some amateur classes in national and international shows in Europe and Finland. For me, it was clear from the start that I will do everything in my power and budget to try and see if my own breeding has been a success. I sent my horse to the Netherlands in 2017 to grow in the fields with mares of the same age. It was natural for me to try to find a rider locally to start working on the riding and training. Then I came up with Mindi. I first met her in 2009 when I was also living in the Netherlands », Sandra describes how it all began.
Mindi was ready to start the project. « When we started the partnership with Sandra and her horse Louella S (Indy), we discussed a possible plan of action », Mindi says. They came up with three alternatives:
a) to make the horse saddle broken and rideable, and bring her back to her owner in Finland.
b) if the horse shows some quality but isn't easy to work with, we make her show-ready and sell her.
c) If the horse is easy and shows good quality, let's make something fun out of it and see how far we can get her in the sport. If she does not make it far, she will be a very nice horse for the owner to ride as she is easy and uncomplicated.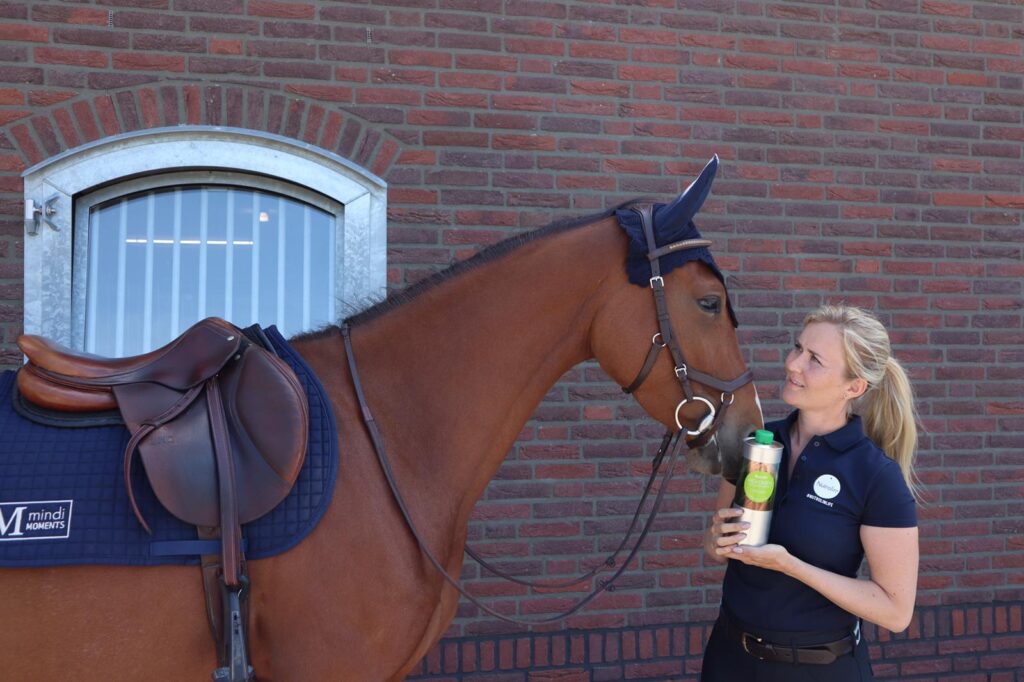 Long and short terms goals & focusing on the horse's health
The first step was to loose-jump the horse at the age of 3 and to evaluate what kind of qualities and goals could be set both long and short term. The horse showed a good balance, brave attitude and a positive attitude towards working and last but not least, a good jumping technique and scope. Sandra and Mindi were already leaning towards option C.
« Having evaluated on the quality of the horse seen in loose jumping and worked with her during the first weeks, we set a goal: let's have her ready for the 4-year-old showjumping classes in the Netherlands for the 2020 season », they tell about their plans.
From October 2019 to January 2020 the horse trained under the rider and got introduced to easy jumping exercises growing its strength and confidence.
The goal of this introduction period was to take the horse to jump a small course (70-80cm) at either or practice horse show, or a real horse show just to see how she reacts. Then based on the experience on the show make a plan for the training and set goals for the summer.
« The trial horse show experience with Louella S at the beginning of January 2020 exceeded our expectations; the horse did very well. We had successfully completed the introduction period of almost 3 months, and the horse was given a well-deserved holiday », they tell about this critical phase.
In May 2020 Indy was taken back into training after a 3,5 months long break. The break eventually became 1 month longer due to the Corona crisis cancelling all shows, giving them less reason to start training too soon.
Because the break was during the winter months with harsh weather, they took it easy for the first few weeks, riding lightly and making sure deworming, shoes and teeth were adequately taken care of before the harder training would begin.
« As soon as Indy came back from her break, we started to feed her Nutrolin® Horse Skin and Coat oil. We wanted to get rid of her ongoing skin problems on her left shoulder, neck and withers and help her coat to get healthier and stronger again », the two women describe how they began their Nutrolin® use.
Training an energetic horse
Because Indy is a rather bloody and energetic horse, she is getting exercised 6 days a week. The exercising varies weekly from riding (25-40 minutes), working her on the lunge, hacking in the forest, lunging on a halter or a long walk in the woods. She jumps once a week and gets one day off each week. Every day she goes in the paddock and sometimes also in the walker, just for extra movement and stimulation.
The goal for June and July 2020 was for Indy to gain weight, and to grow muscles, as she was still a little dry after her break.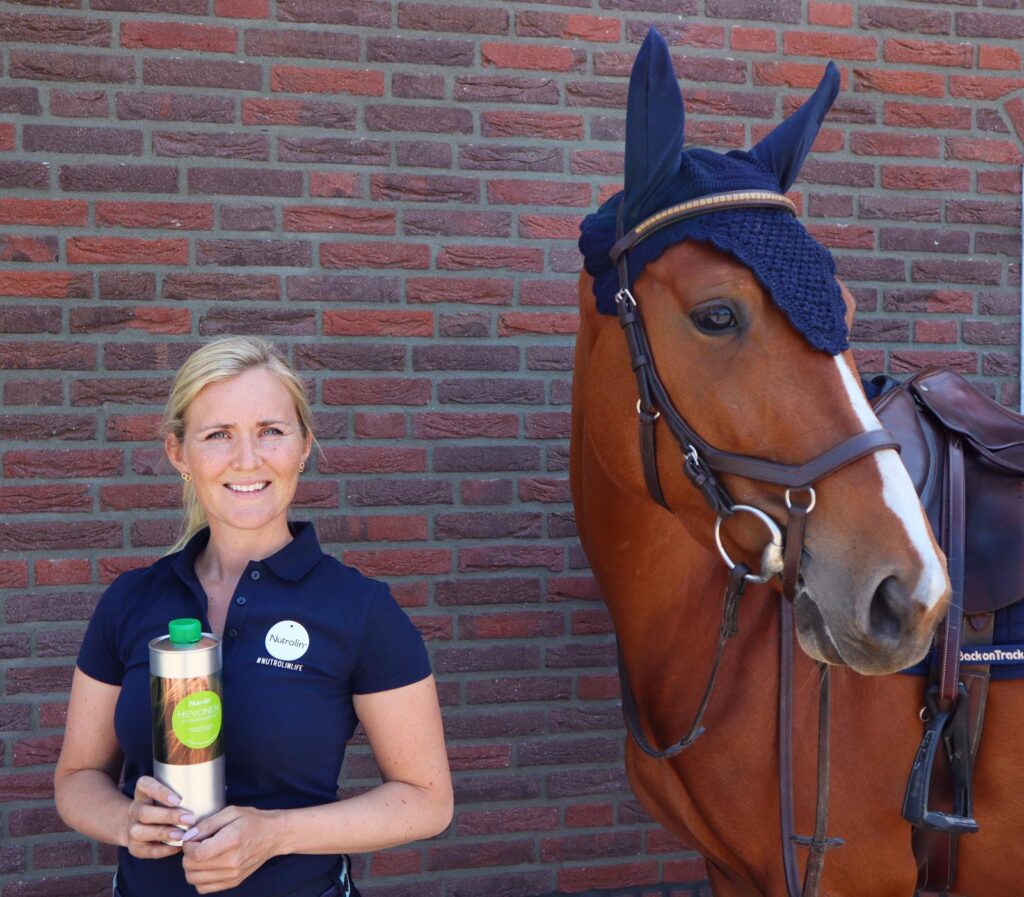 « We went to training jumping first at 70-80 cm level, and by the end of July, the aim was to jump at 100 cm level at horse shows that are organized during the pandemic. In the Netherlands, the 4-year-old classes are at a 100-110cm level which will be the goal of the season 2020.
Good luck to this focused team, it will be interesting to follow their adventures.