Some of the fatty acids are produced by the body, others must be obtained from nutrition. Read our brief key to omega fatty acid.
A brief key to omega fatty acids
Fatty acids are among the most important molecules present in nature
Fatty acids are the building blocks of the body – all organs in the body are surrounded by a membrane of fatty acids.
A cell membrane formed of fatty acids is a vital structure in terms of cell functioning – all transport between a cell and its environment happens through the cell membrane.
Properly functioning cell membranes maintain the well-being of the body.
The functioning of important structures of the body (the brain, eyes, skin, gametes, etc.) is based on fatty acids.
The composition of cell membranes can be affected by means of the fatty acids received from nutrition. Essential fatty acids in vegetable oils and omega-3 fatty acids in fish oil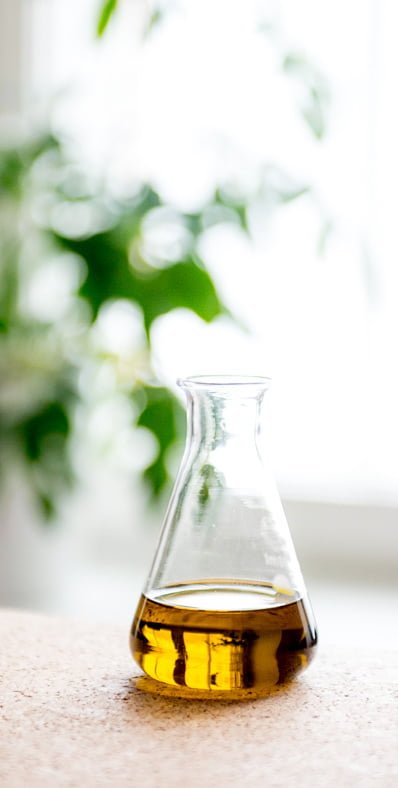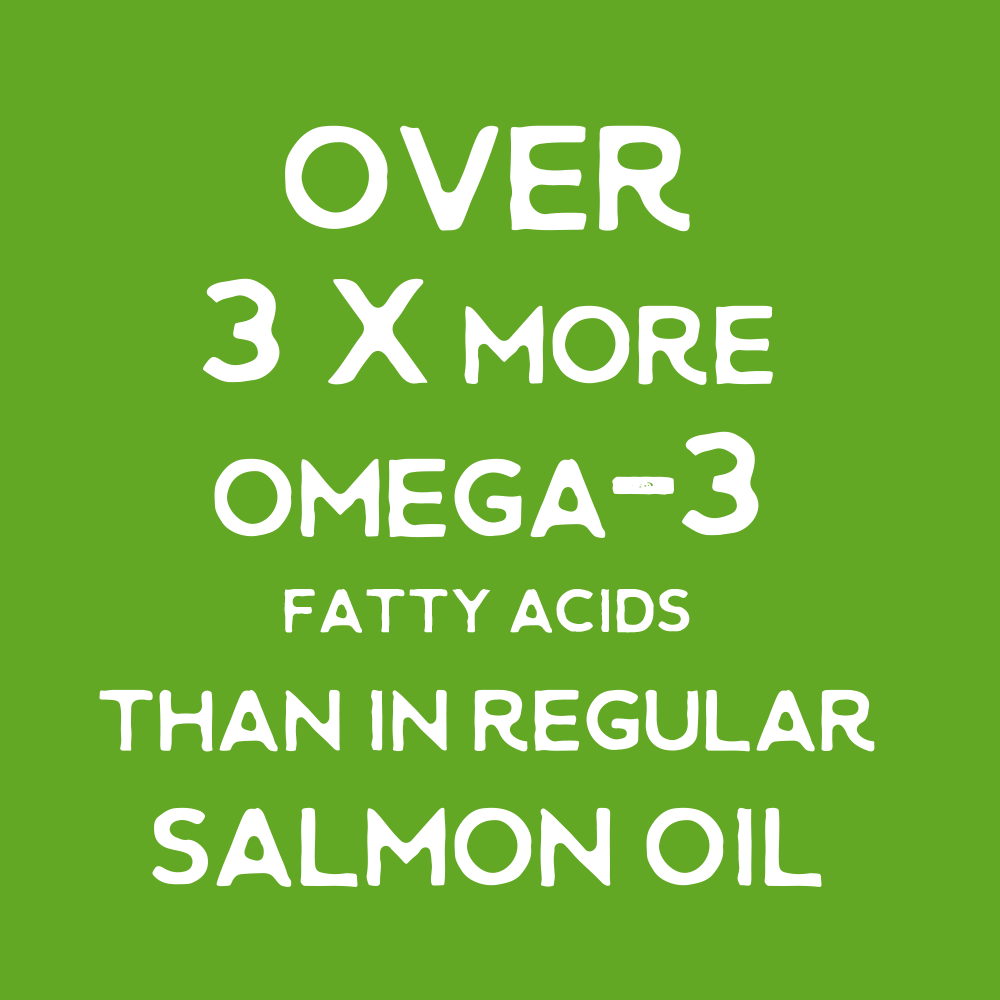 DHA, docosahexaenoic acid
The most important omega-3 fatty acid.
Membranes of all cells contain DHA along with omega-6 arachidonic acid. High levels of DHA are found in the brain and retina of the eye, as well as in reproductive cells. Research has shown that the omega-3 DHA accumulates in the parts of the brain associated with learning and memory, in particular.
A DHA insufficiency impairs development of the central nervous system and eyes. The insufficiency may also compromise development of the sense of smell, which is important for animals. Supplementing nutrition with DHA has been shown to improve puppies' vision and trainability.
A puppy gets the majority of the DHA that it needs during the last trimester of pregnancy and from the mother's milk during lactation. Therefore, it is important that the diet of the pregnant and lactating mother is supplemented with an oil rich in DHA. Nutrolin® PUPPY & MOM contains fish oil with high level of DHA, Vitamin E and a good mix of antioxidants. DHA is the fatty acid most susceptible to oxidization. Since oxidized fatty acids have a compromising effect on the puppy's growth and development, Nutrolin® PUPPY & MOM is protected against oxidization in many ways.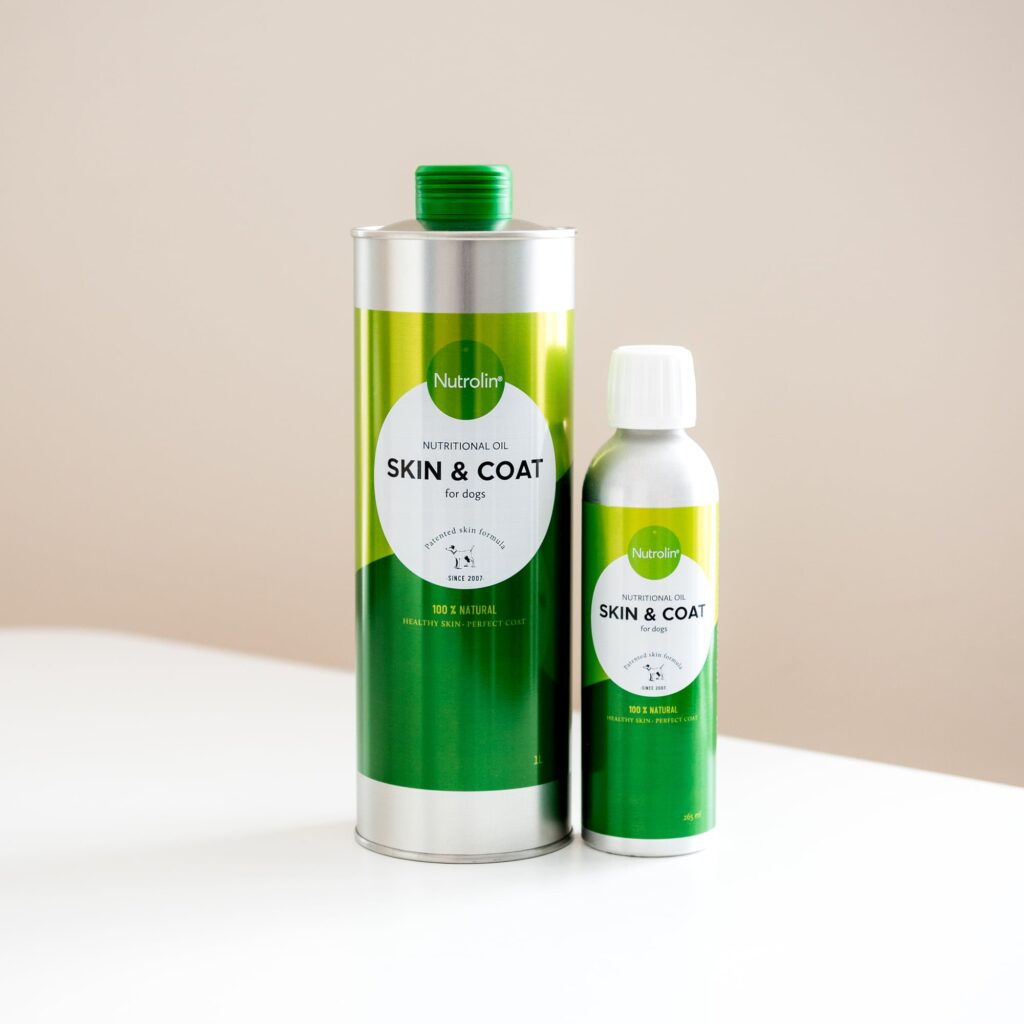 Some of the fatty acids are produced by the body, others must be obtained from nutrition
LINOLEIC ACID
An omega-6 essential fatty acid.
Linoleic acid has two main functions in the body. First, it is used in production of arachidonic acid. Arachidonic acid is one of the two main fatty acids in cell membranes and the key fatty acid of the immune system. Cats lack the enzymes required for the metabolism of linoleic acid. Therefore, cats must receive arachidonic acid from food.
Second key function of linoleic acid is in maintenance of the protective layer of the skin, also called, the skin barrier. An animal whose intake of linoleic acid is insufficient suffers from dry and flaky skin, increased shedding, and susceptibility to bacterial and yeast infections. Symptoms of linoleic acid insufficiency may also be exhibited by dogs and cats who get plenty of linoleic acid in food. Instead of an insufficiency, the animal may be suffering from impaired metabolism of linoleic acid or having a diet with fatty acid imbalance. Atopic eczema is characterized by excessive drying of the skin. In this case, the underlying cause for the illness is a poorly functioning skin barrier.
A poorly functioning skin barrier can be strengthened by means of a nutritional oil, which includes not only omega-6 linoleic acid but also other fatty acids which support the use of linoleic acid in formation of the skin barrier. These supporting fatty acids are alpha-linoleic acid (omega-3 ALA), gamma-linoleic acid (omega-6 GLA) and stearidonic acid (omega-3 SDA) as well as natural tocopherols (alpha-tocopherol, or Vitamin E, and beta, gamma and delta-tocopherols). Nutrolin® SKIN & COAT is a patented oil blend, which contains all of these important nutrients for the needs of the skin.
EPA, eicosapentaenoic acid
An omega-3 fatty acid which controls inflammation.
The EPA fatty acid obtained from food is stored primarily in the fat tissue and, to a minor extent, in cell membranes. Thus, unlike DHA, it is not found in large quantities in the cells of the brain and retina. However, EPA stored in the body efficiently controls chronic inflammation. It competes with arachidonic acid, reducing formation of inflammatory molecules. EPA and DHA also form special molecules that aid the body to control inflammation, resolvins and neuroprotectins.
EPA and DHA also support the normal functioning of the brain and control aging-related changes in the brain. Changes associated with Alzheimer's disease and dementia. Animal experiments have shown a connection between sufficient intake of omega-3 fatty acids and a reduced dementia risk as well as the maintenance of brain functions.
As the animal ages, chronic, low-grade inflammation increases. It is associated with obesity and inflammations in the mouth, intestines and joints. A state of chronic inflammation and a related oxidative stress speed up the aging process. Aging-related changes in the body can be alleviated with omega-3 fatty acids and antioxidants, and that is why Nutrolin Senior® contains plenty of omega-3 fatty acids, Vitamin E and ubiquinone.
Inflammation and oxidative stress are natural responses to strenuous exercise: work, hunting or sports. During recovery from strenuous exercise inflammation and oxidative stress manifest as joint pain and fatigue. The omega-3 fatty acids, Vitamin E and astaxanthin of Nutrolin® SPORT support the body's recovery by controlling inflammation and oxidative stress.
Osteoarthritis is a degenerative joint disease, with an inflammatory component. Initial damage of the joint tissue is followed by an uncontrolled inflammatory response that fuels further damage and degradation of joint tissues. Thus, a vicious cycle of tissue damage and inflammation is established. The omega-3 fatty acids of Nutrolin Joint Duo provide for control of inflammation and establish a condition where glucosamine and chondroitin can exert an anabolic effect and help to restore the structure and function of joint tissues. Therefore, Nutrolin® HIP & JOINT has proven to be an efficient support treatment for the pharmaceutical care of osteoarthritis.
Photograps: Jenni Liukkonen/Nutrolin®