"Kati and 13 working-line chihuahuas," introduces Kati Koskinen herself with a smile. She is a long-time Finnish agility athlete. If someone has ever imagined that a chihuahua cannot be trained, he or she has totally misunderstood the breed. Six of Kati's dogs compete or have competed in agility's highest, 3rd class. The remaining seven are still puppies or already retired sports dogs. Agility is the primary sport of this pack, but obedience and Rally obedience have also become familiar to them.
We arranged a meeting and a photoshoot in Kati's family holiday home in the Finnish countryside not far from the capital city Helsinki. During the past couple of weeks, we've imagined what it's like when 13 tiny dogs are darting around in the garden. We must remember to be sure to look closely at where we step, and there would probably be a lot of high-pitch barking going on.
Upon arrival, it is confusingly quiet and serene
Have the dogs been forgotten in their city home? Kati meets us in the yard, a tall, blonde, athletic woman. But where are the dogs? Our hostess points to a window with a bunch of tiny faces. We start laughing, and our fingers are already twitching to get to pet those small canines. Kati goes to the door and calls the dogs out by name, small batches at a time. A pack of happy chihuahuas roll out the door. The dogs run to us for quick, friendly greetings, and then tumble along the yard. There should definitely be a Cuteness Alert sign at the gate of this house.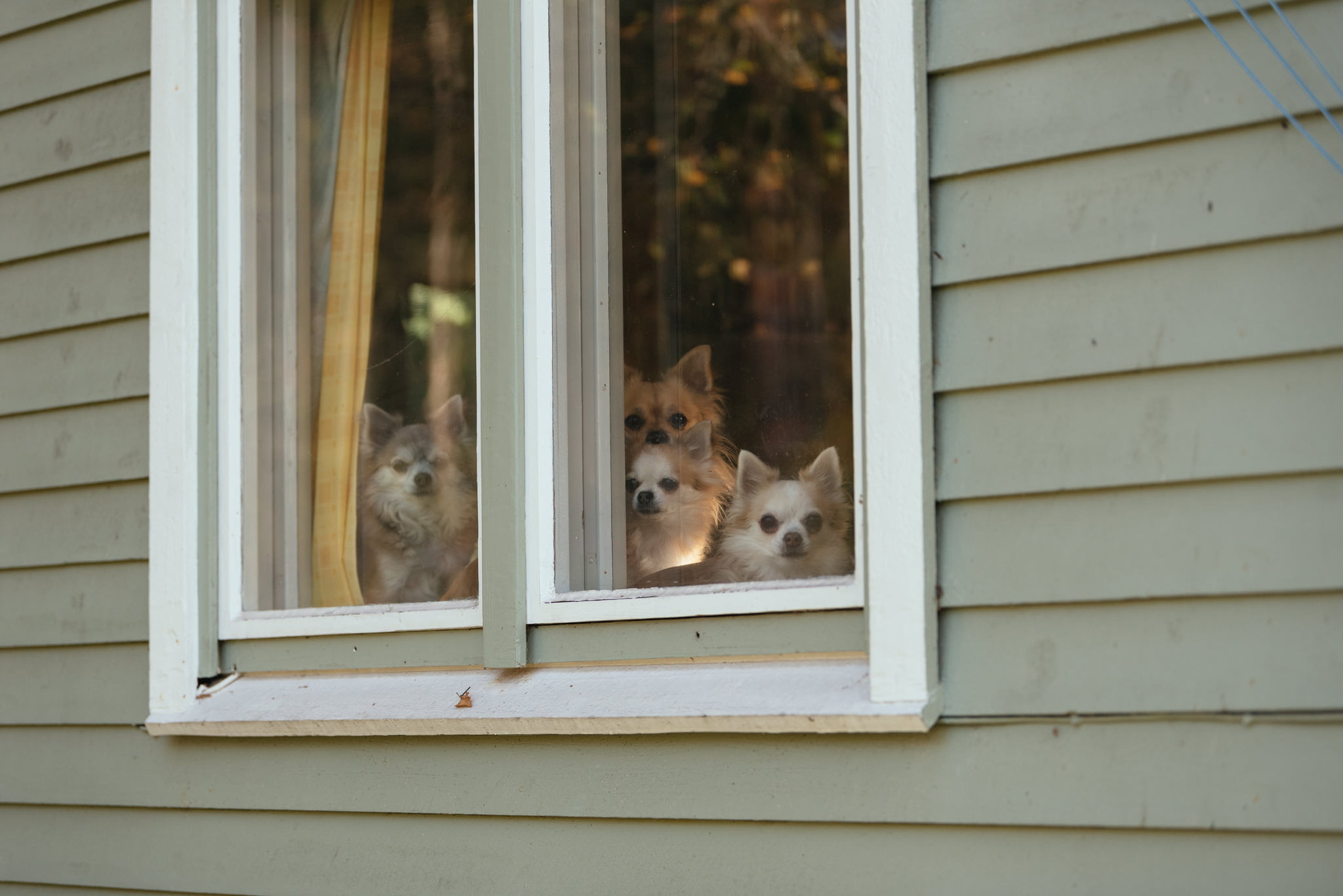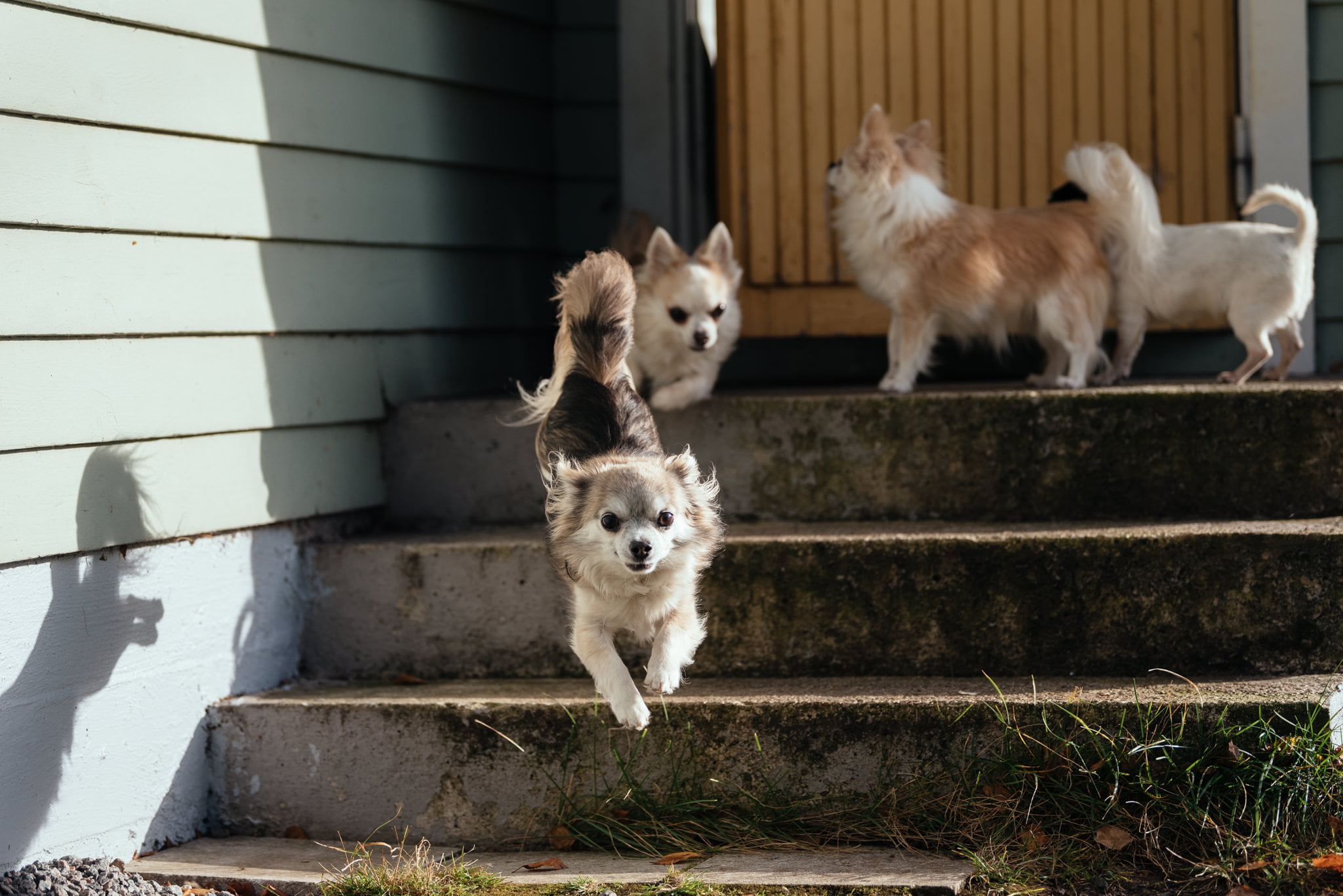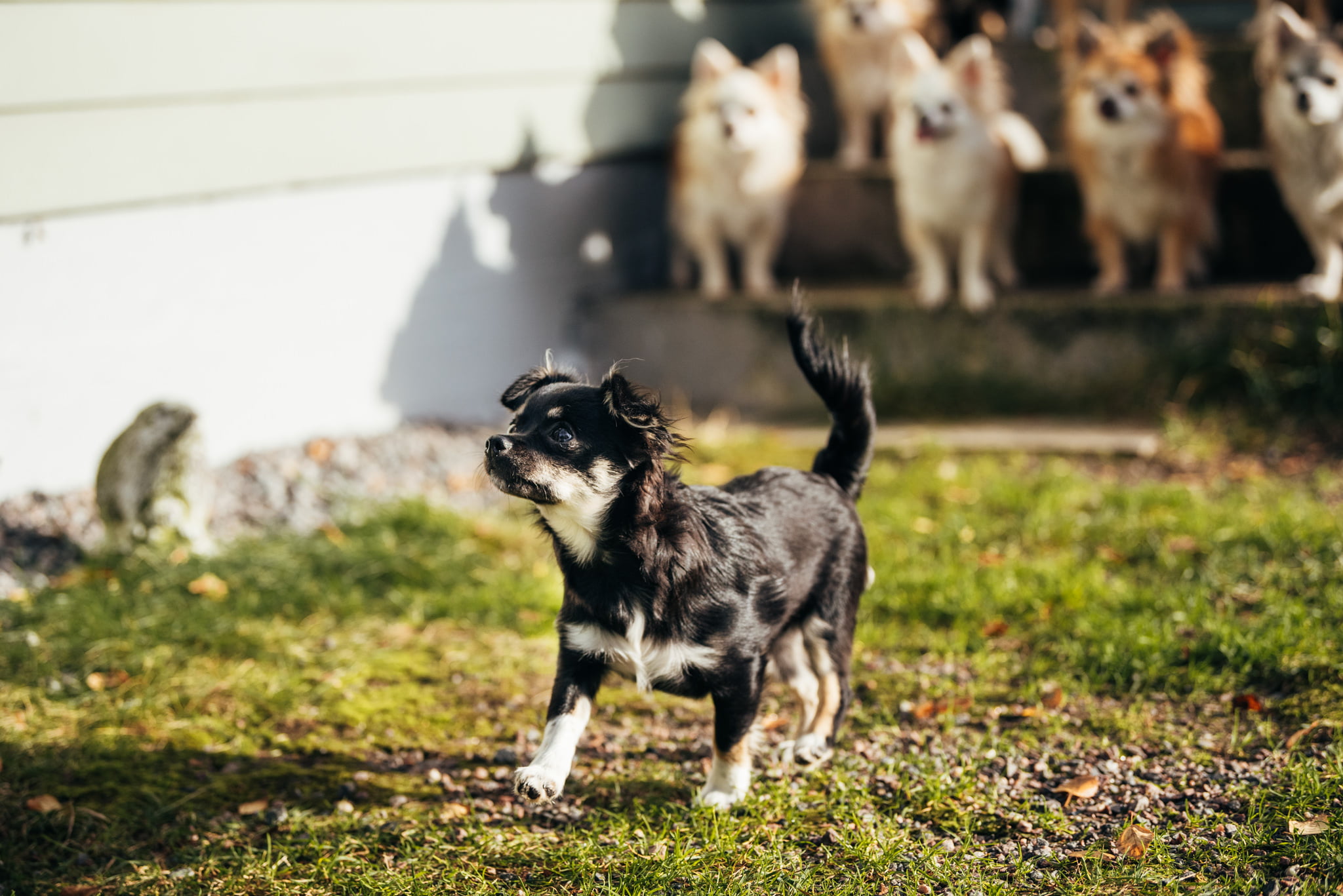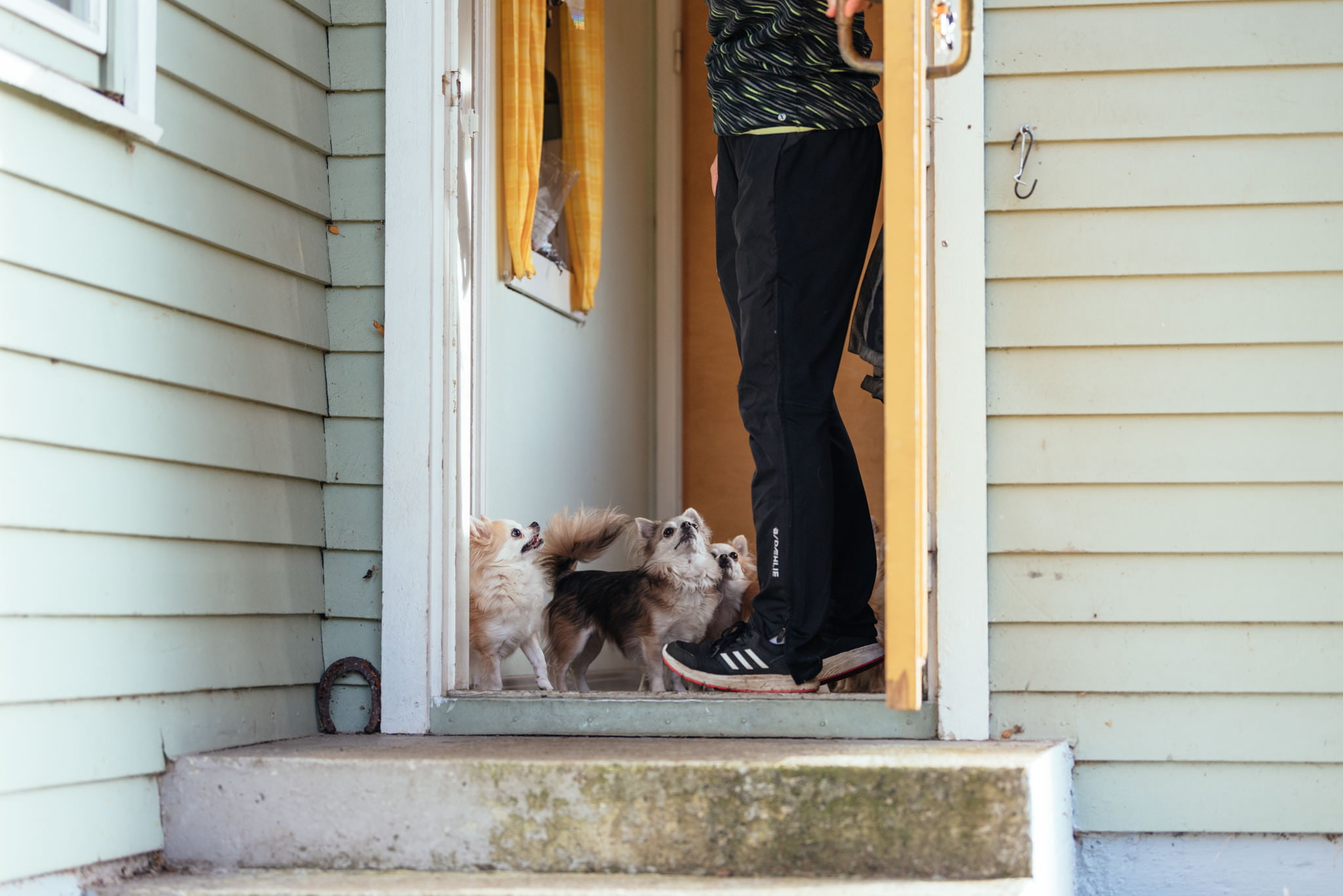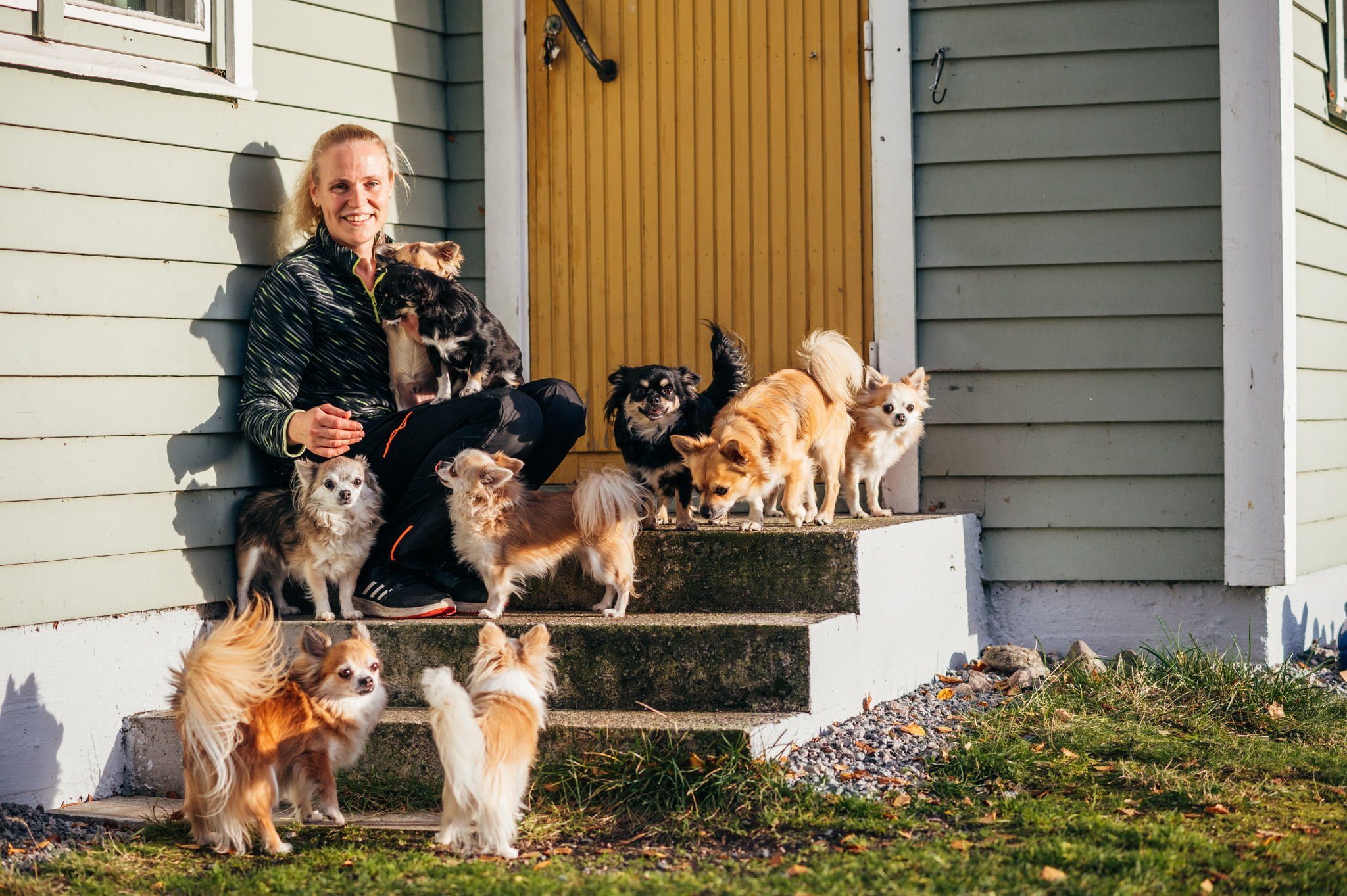 First dog at the age of 11
Throughout her childhood, Kati was asking for a dog from her parents, and when she was 11, she finally got a Yes. But the dog must definitely be small and short-haired, they said. That's when her chihuahua era began, with already 10 much loved but now deceased, chihuahuas. The current pack consists of 13 mini-sized sports dogs that we have come to photograph (and pet). To be precise, one of the dogs has come to Kati as a senior from another home. The old dog too has gotten to the agility fields and is thus a thoroughbred sports dog in her own opinion.
All the dogs behave nicely, and we still hear only occasional bursts of barking. The puppies are wrestling and growling, a sign they are real canines. The oldest of the dogs, ​​Myy, is already 15.5 years old, but she is happily taking part in the hustle and bustle. Her hearing is gone, but otherwise, she is still an energetic granny dog.
Finland's first agility and jumping champion in this breed is Kati's dog, Jesse, and the five-year-old speeder is also a silver medalist in the small mini-class of the 2018 Finnish Agility Championships. Dogs with a height at the withers less than 28 cm are classified as small minis.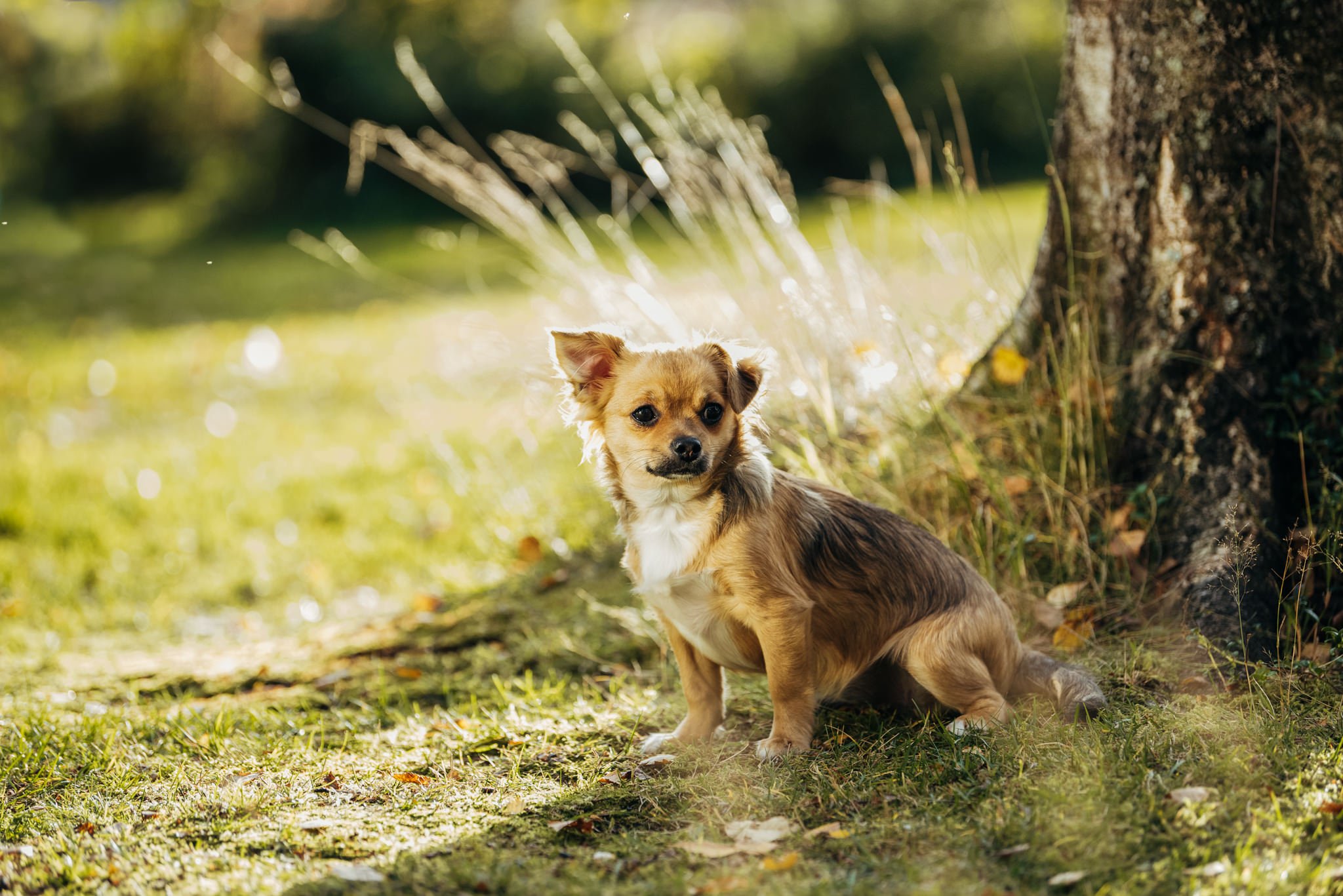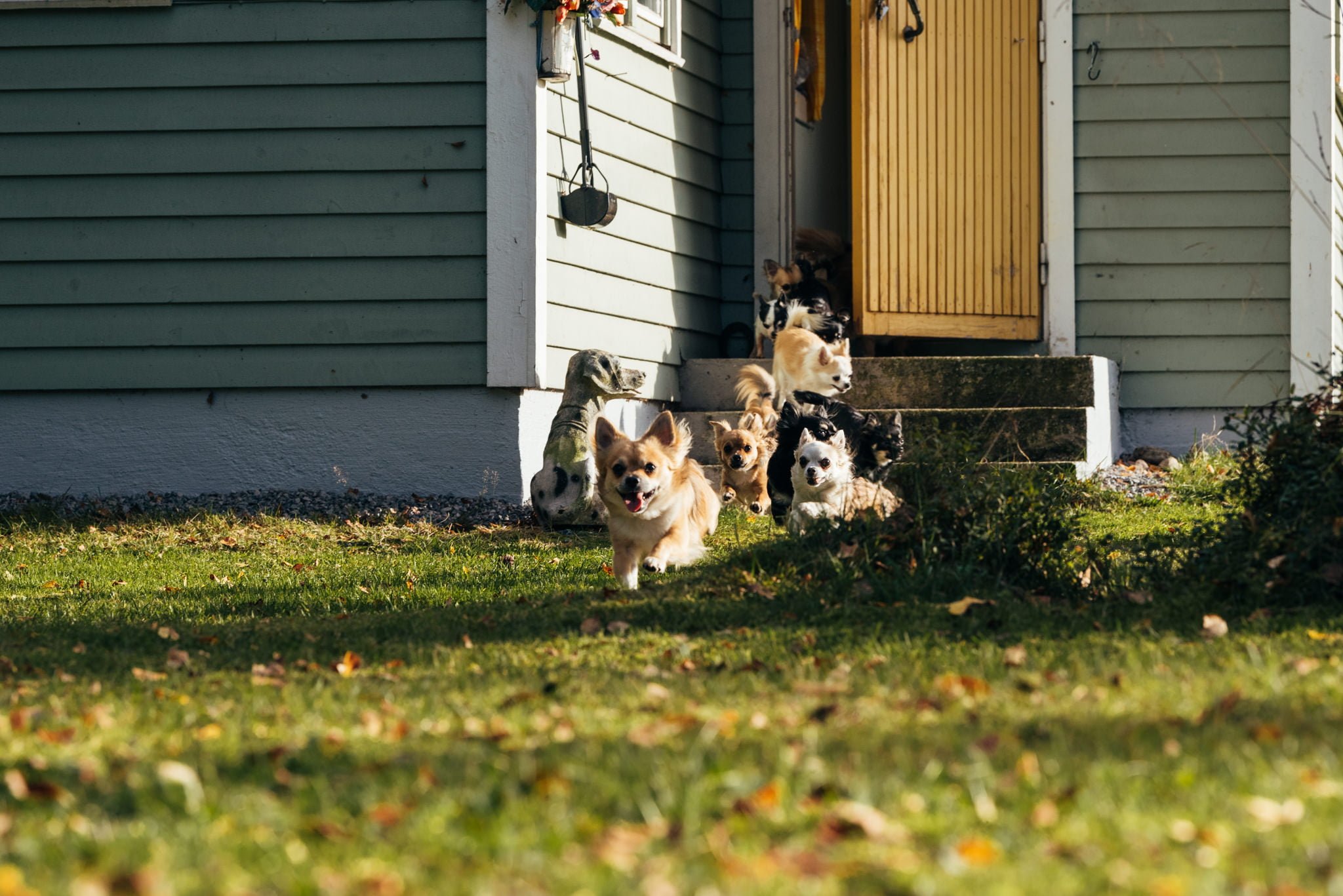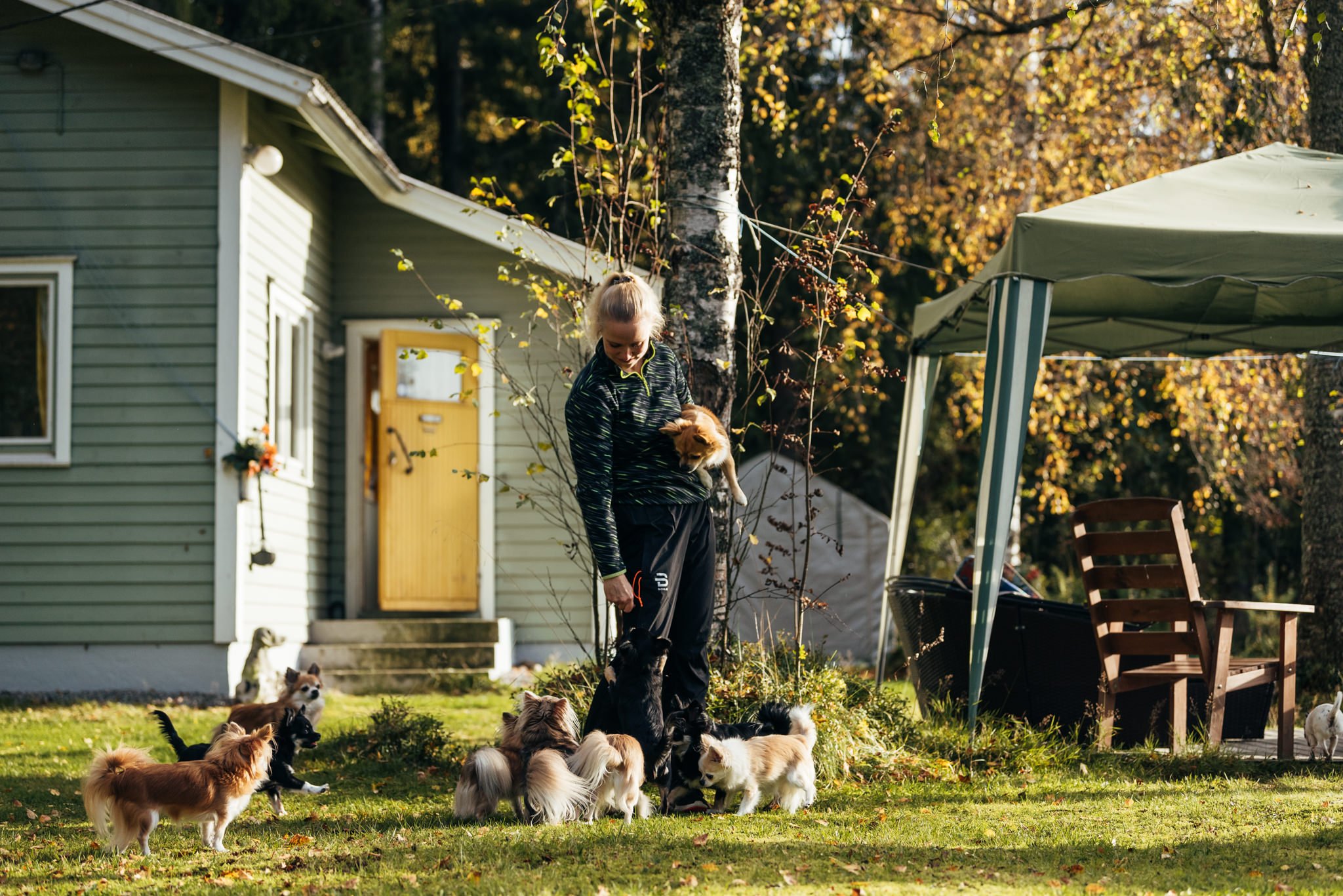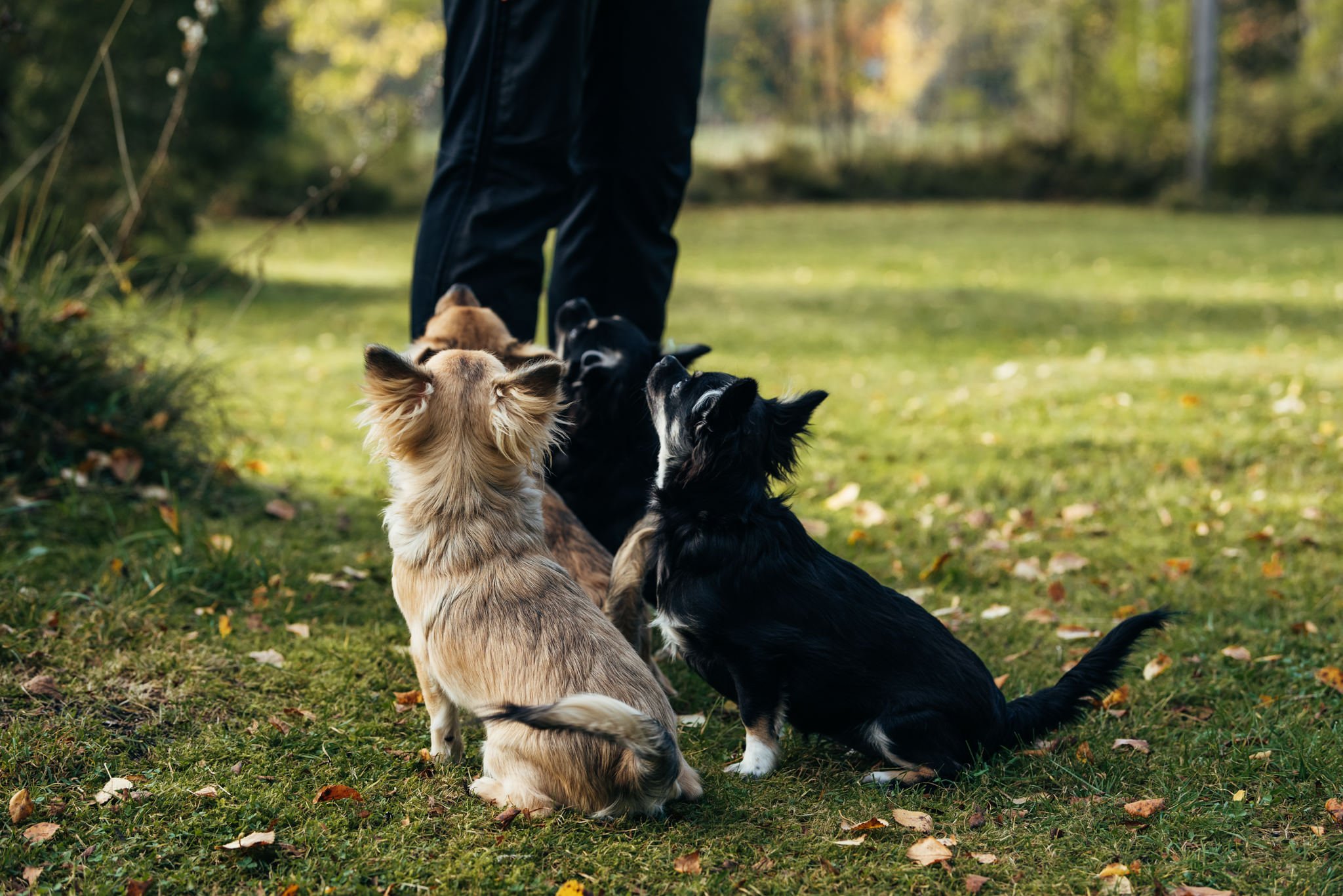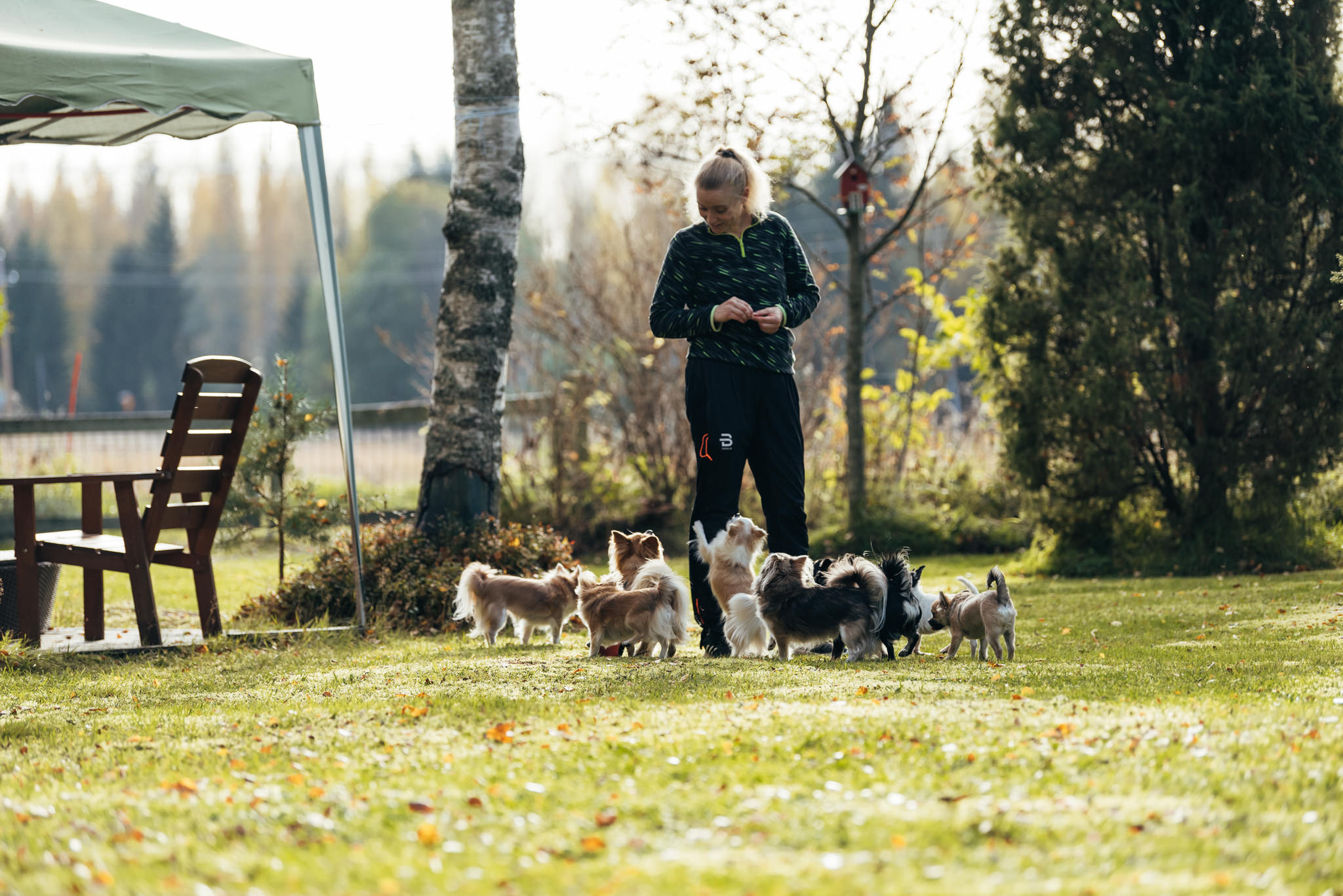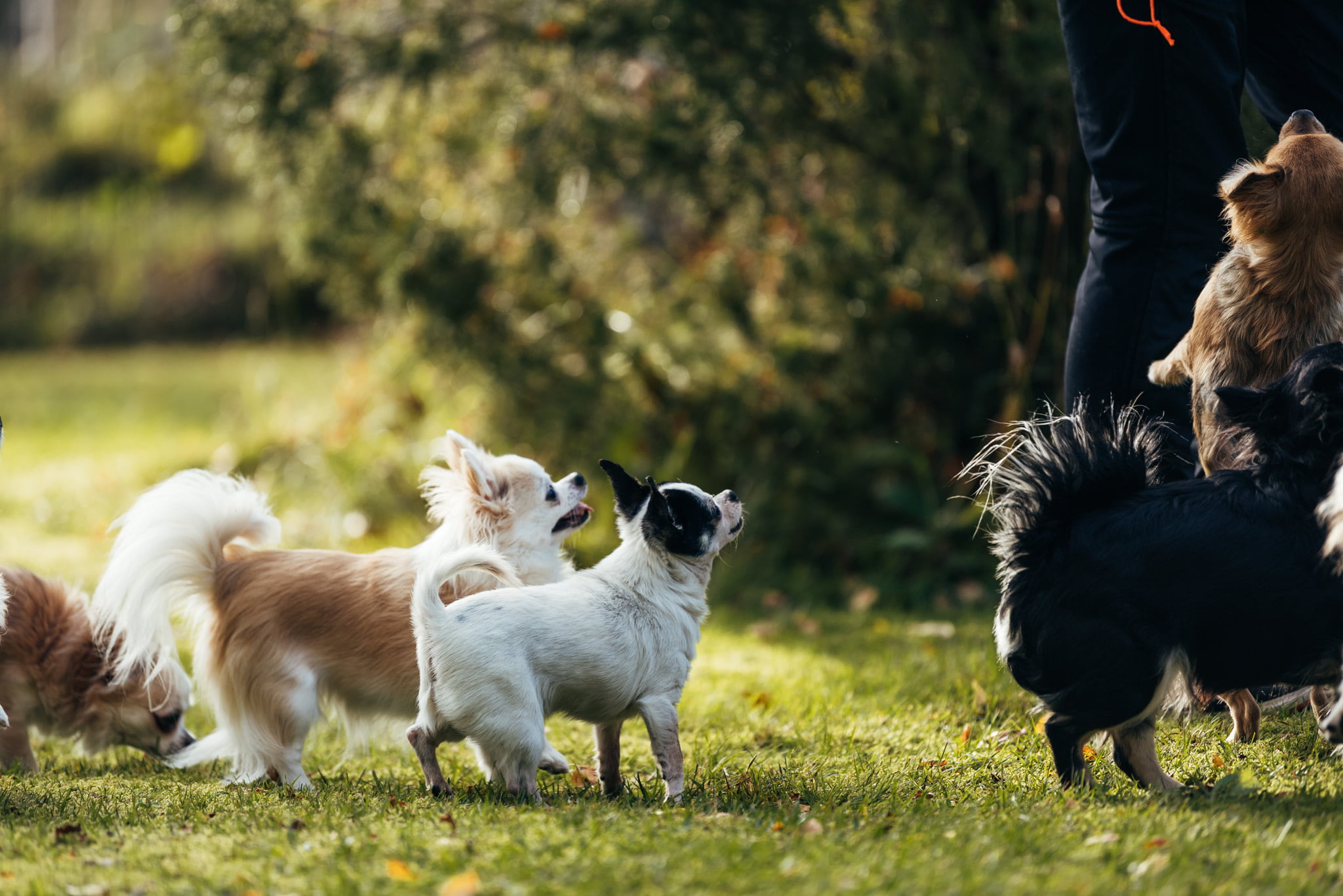 Chihuahuas like little scouts
My colleague Jenni is lying on her stomach on the lawn and photographing the tiny dogs in the yard. I have time to observe the hustle and bustle. There are four five-month-old puppies, and they, too, are already real obedience miracles. It's incredibly fascinating to watch Kati guide the dogs with calm movements and an almost whispering voice. She invites them into group photos or even to go into a Nutrolin box (never before have we asked our animal models to do funny things like sit in a box, but Kati thinks it's a trick among others). Risto seems happy with the number and quality of treats coming with the box trick.
While observing the goings-on, it occurs to me that Kati is like a conductor or choreographer, followed by 13 intensely watching pairs of eyes. "Will it be my turn soon to get to shine and earn treats?" the enthusiastic expressions and tail-wagging say.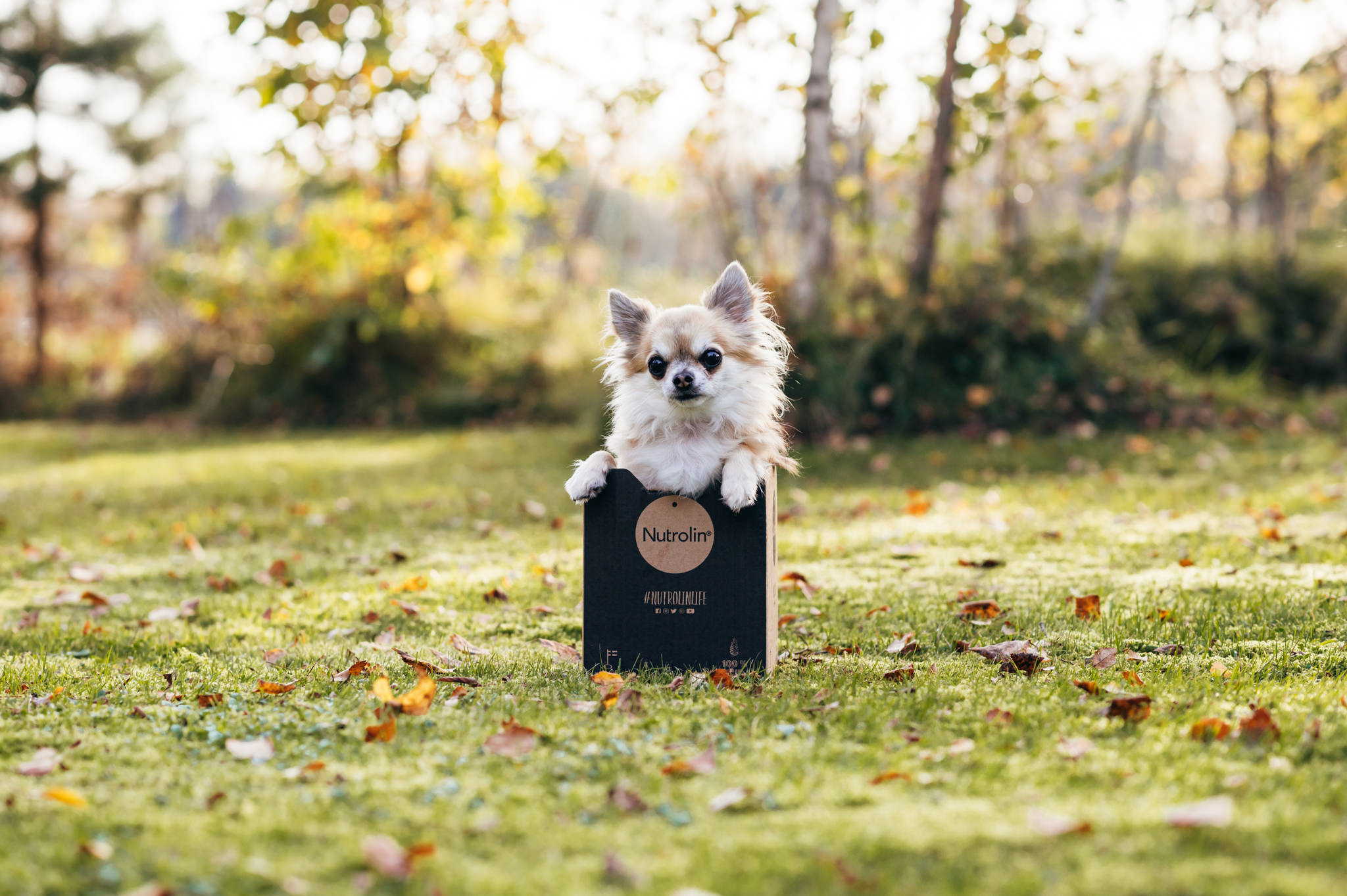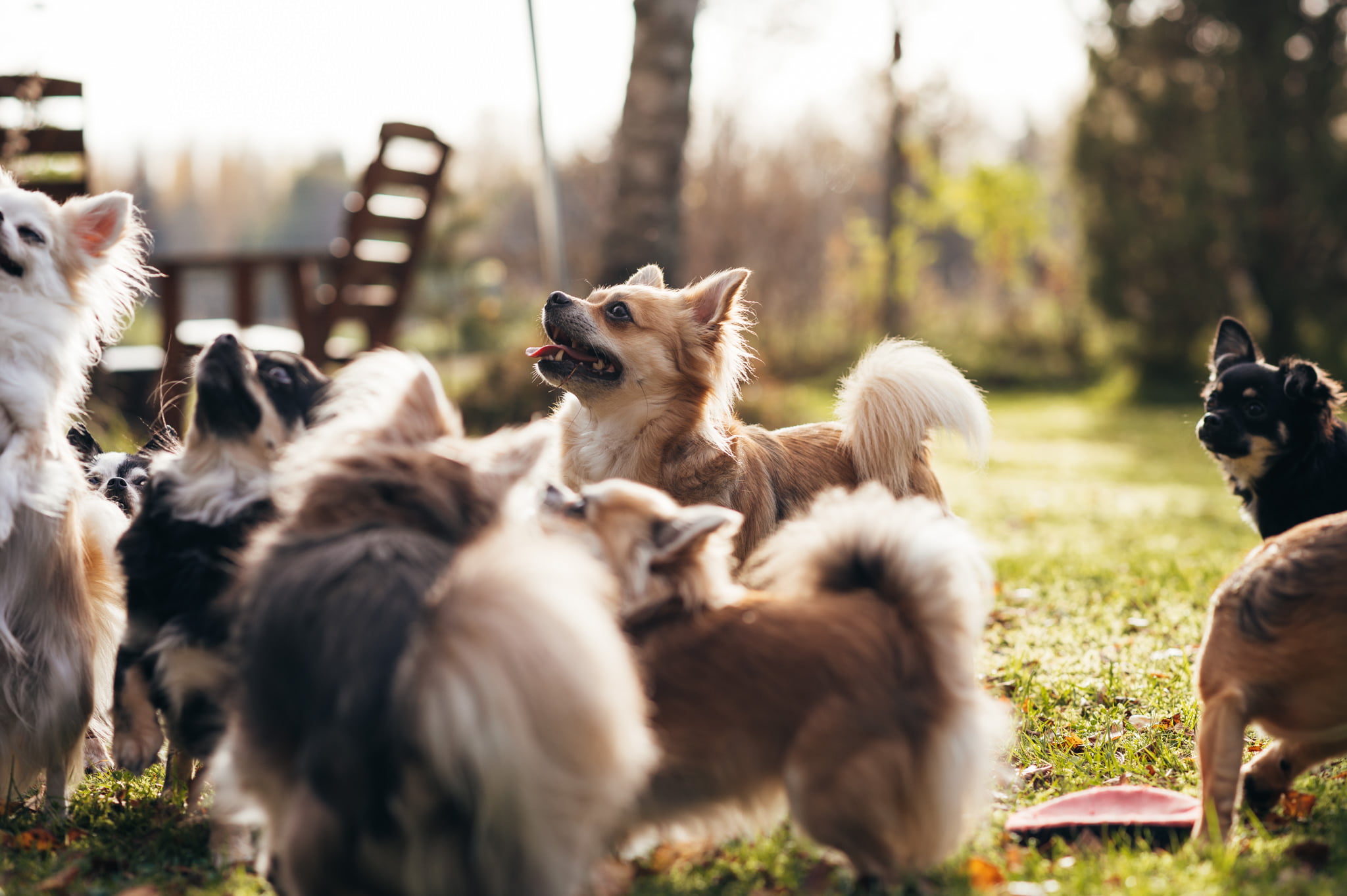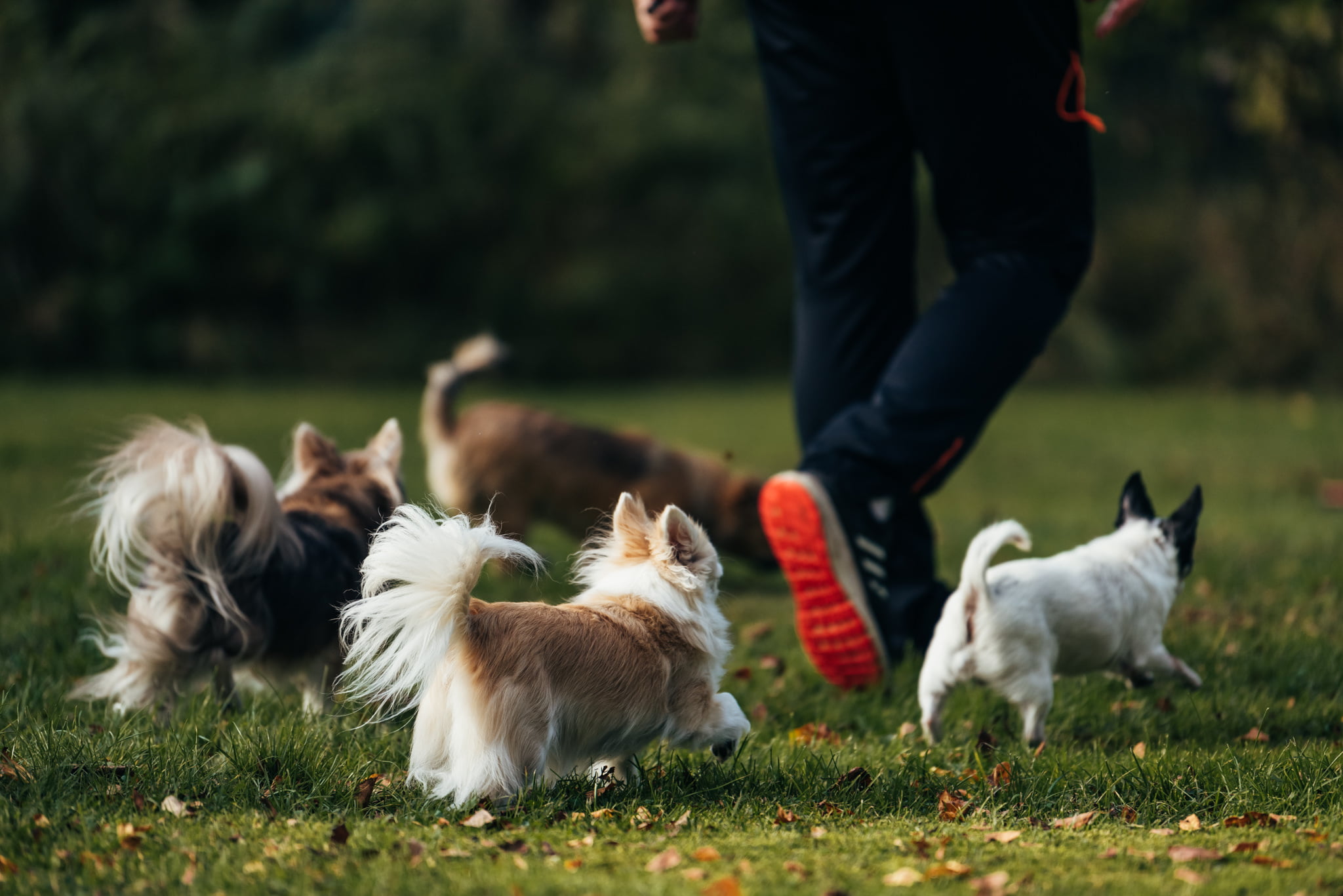 Breeding and agility with ​​health first
Kati Koskinen breeds chihuahuas under the kennel name Chinelly. The puppies end up as active hobby dogs. With the newest litter, Kati made the decision to keep the whole quartet and train them to be her future competition dogs. They are five-month-old Veikko, Maija, Siru and Tilda. Their mother Siiri and father Jesse are agility dogs competing on the highest level, so these puppies have all the prerequisites to get far.
Kati's breeding work – and her dog activities in general – are guided by health and well-being goals. First, she strives to produce healthy dogs in the world, dogs who can enjoy physical activities. Temperament is another essential factor, as a smooth everyday life with a dog rests on the nature of the dog.
Premium quality nutrition, physiotherapy, weight management and good physical condition are the cornerstone of the life of these miniature sports dogs. Today, we have seen that an equally important cornerstone is a close and trusting relationship with their own human being.
Text: Anna-Liisa Lundell
Photos: Jenni Liukkonen
© Nutrolin®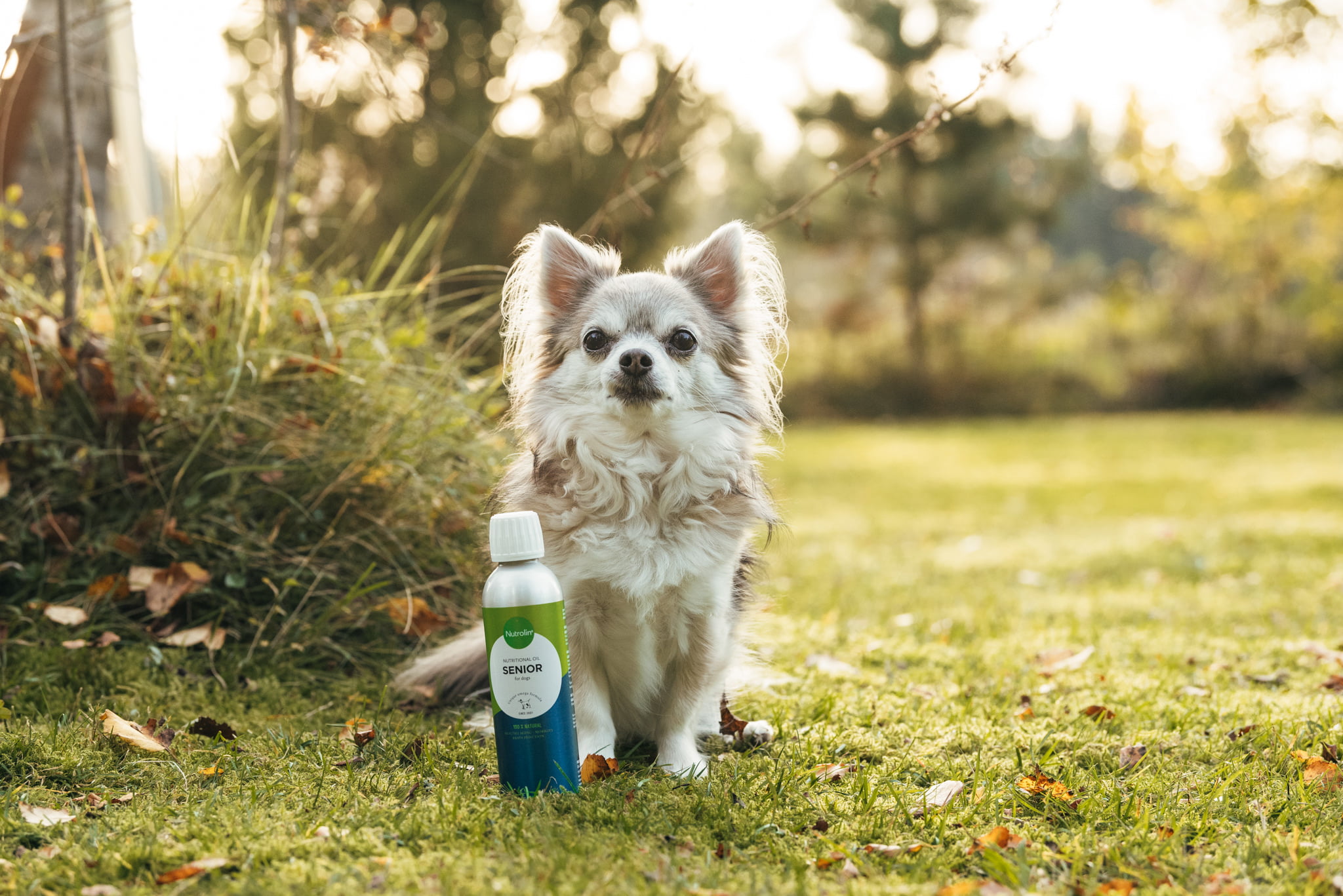 Nutrolin® SENIOR
Myy ​​(15.5), Muru (9), Aarre (9), Sandy (13), Risto (9), Tarmo (10) and Myrtti (10) take Nutrolin® SENIOR oil. It maintains the musculoskeletal, heart, kidney and brain health of older dogs.
Add to bag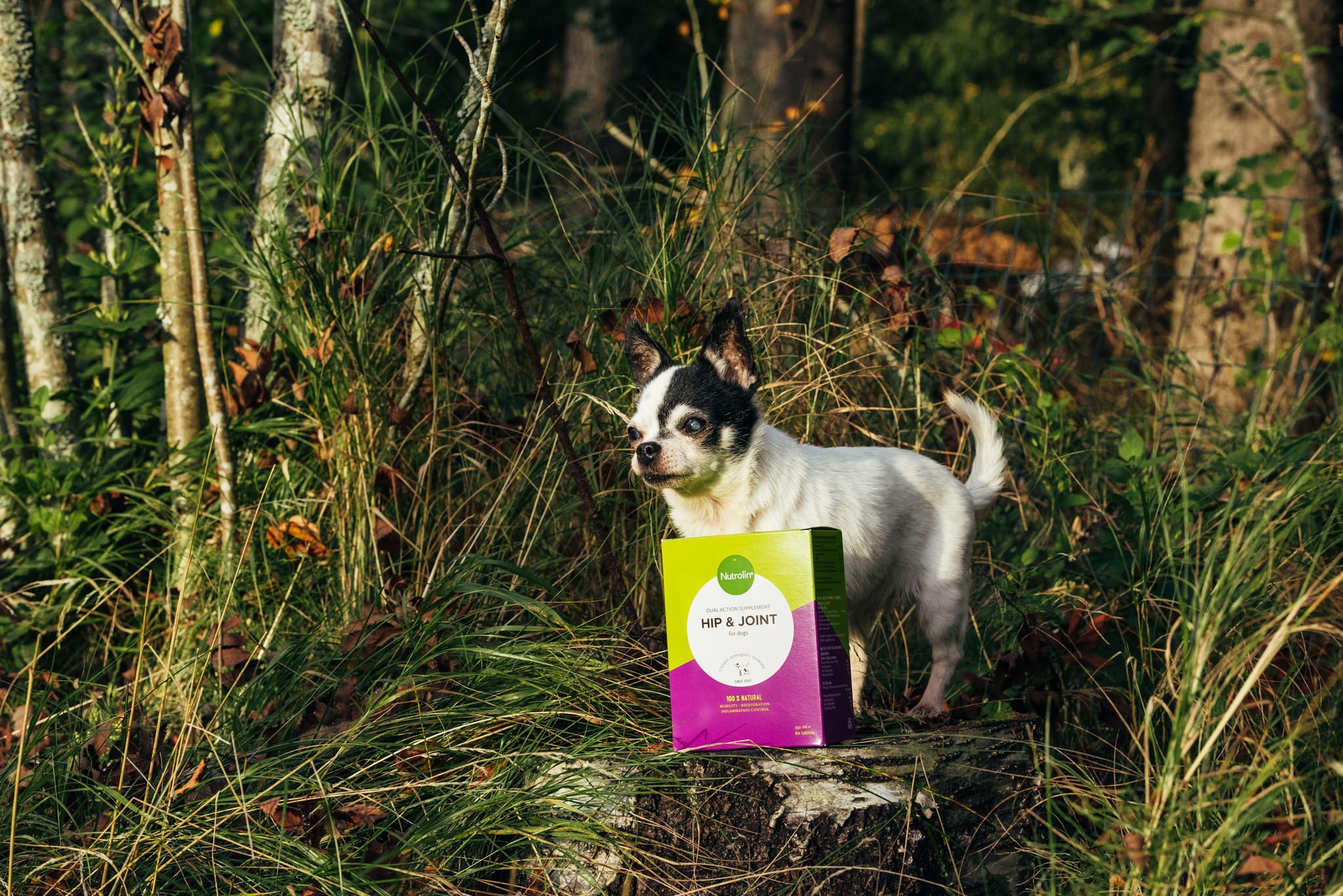 Nutrolin® HIP & JOINT
Now Kati wants Myy to test Nutrolin® HIP & JOINT to help her joints and mobility. It is a fast-acting, synergistic product for dogs who have osteoarthritis. It may become Myy's new, trusted Nutrolin® product.
Add to bag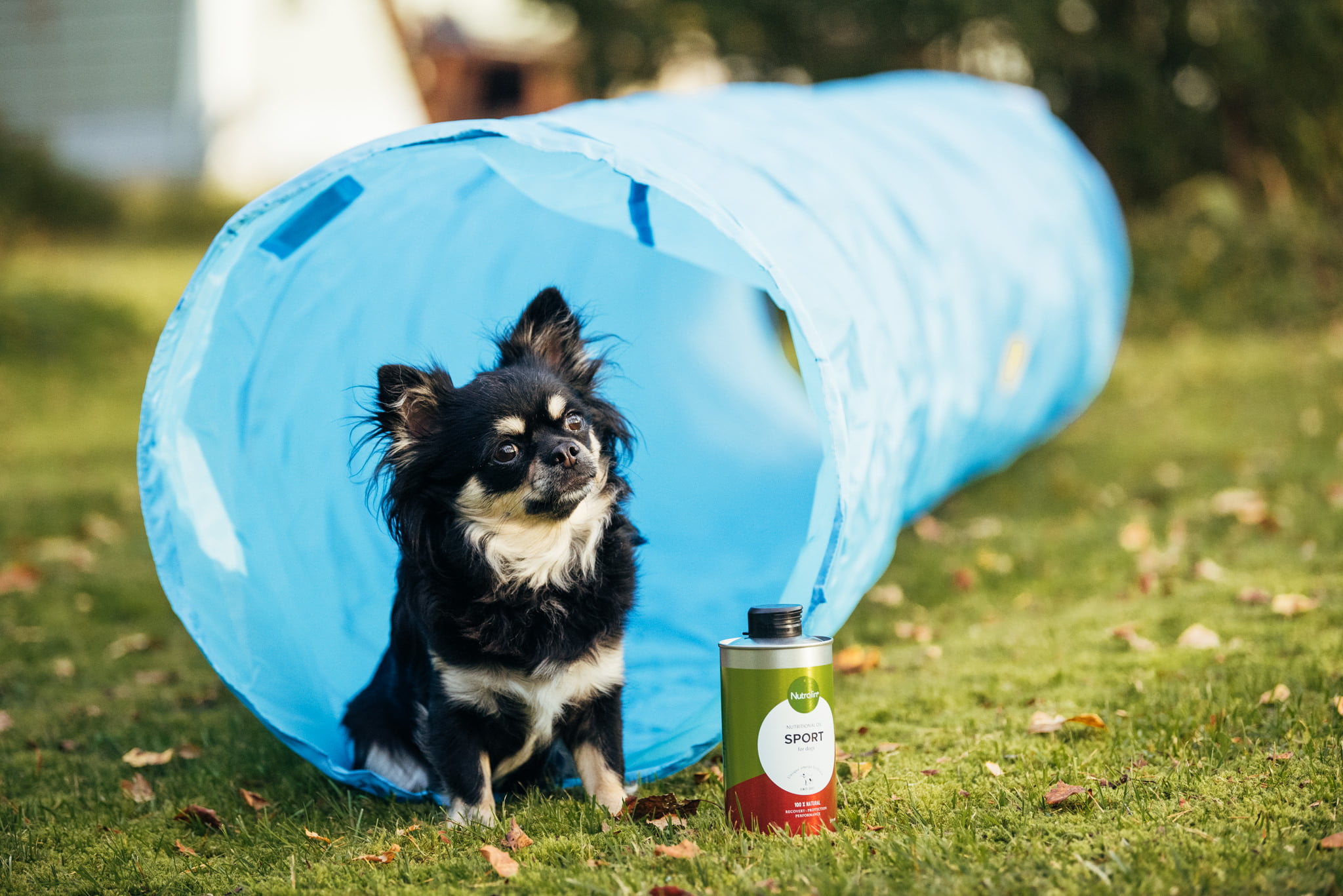 Nutrolin® SPORT
Jesse (5) and Siiri (2,5) are the most active sports dogs in this pack. The product of the athletic duo is the number one favourite of all sports dogs, Nutrolin® SPORT.It helps recover from one workout and race to another, and the unique composition protects the body from micro-damage caused by physical exercise.
Add to bag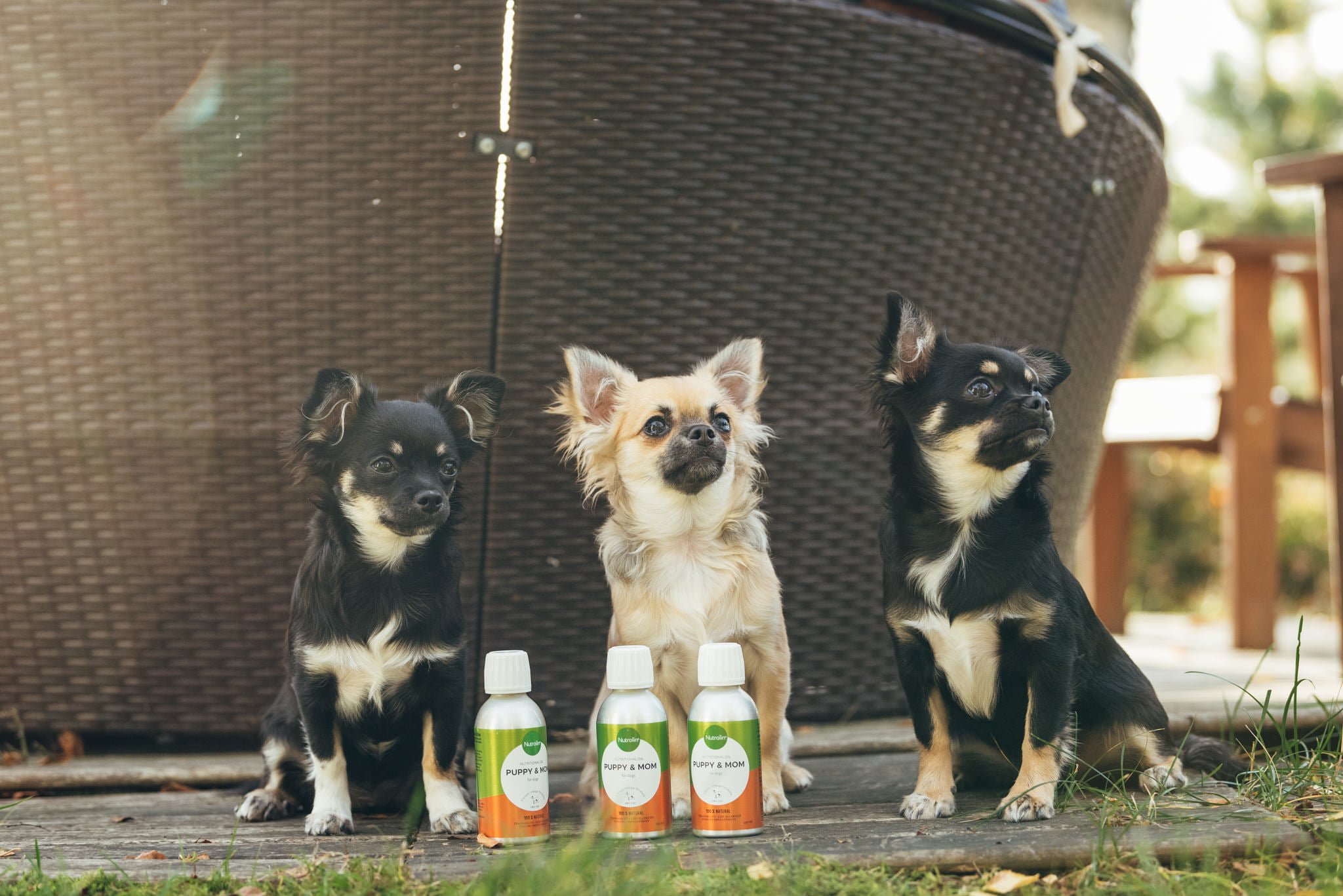 Nutrolin® PUPPY & MOM
The four puppies, Veikko, Maija, Siru and Tilda, have already benefited from Nutrolin® PUPPY & MOM oil before birth. The oil formula ensures optimal development of the brain (better trainability!) and senses. These are some smart, fast-learning puppies.
Their mother Siiri was on PUPPY & MOM oil until she stopped breastfeeding her pups, thus making sure her offspring got their essential DHA boost. After weaning, Kati started putting the oil directly into the puppies' bowls. The four will continue with this oil until they are at least 8 months old.
Add to bag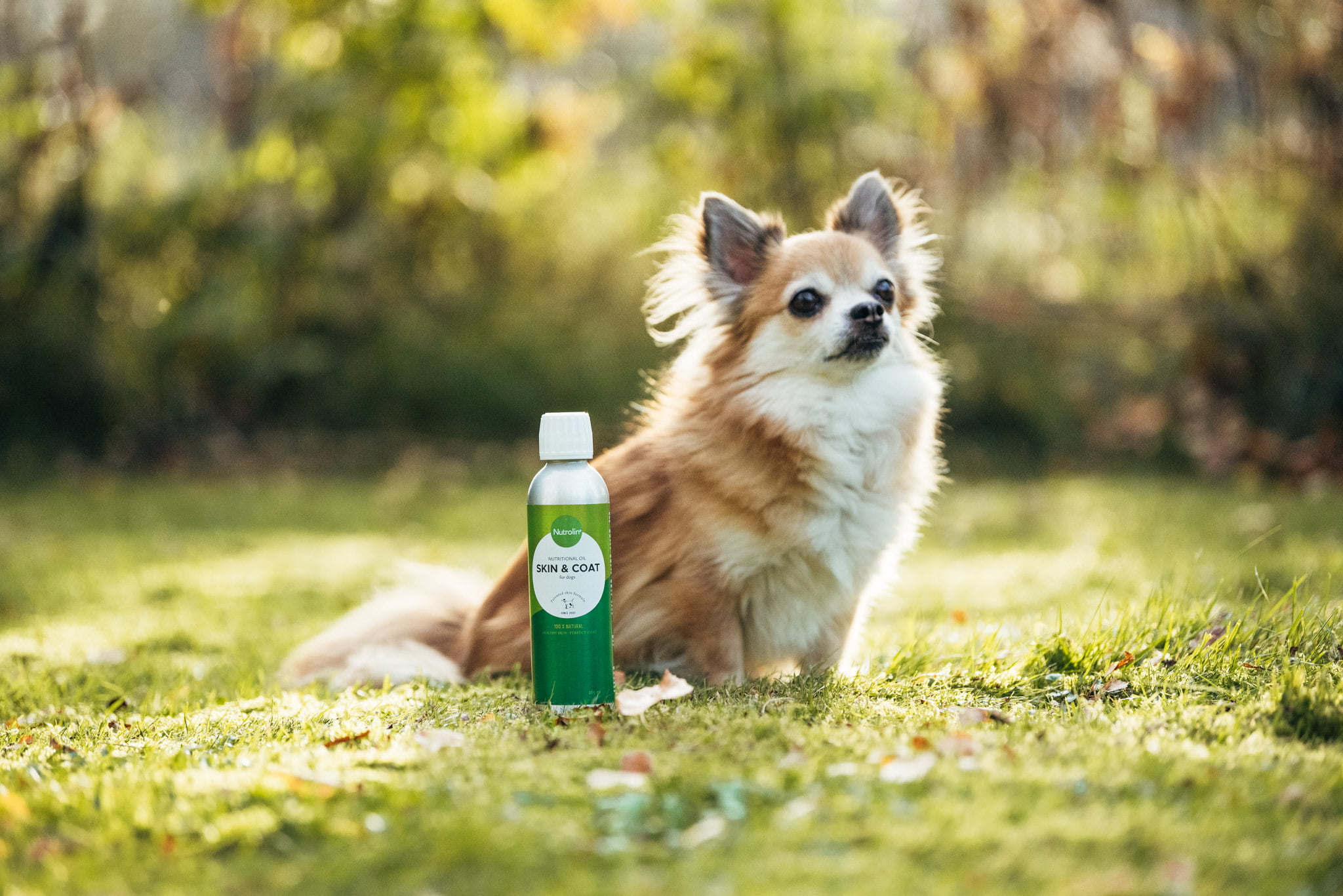 Nutrolin® SKIN & COAT
From time to time, Kati's adult dogs will also receive Nutrolin® SKIN & COAT oil as a treatment. After having puppies, it is the top oil to help the Mom dog to have her beautiful coat back.
Add to bag